Symposium: Historical English Word-Formation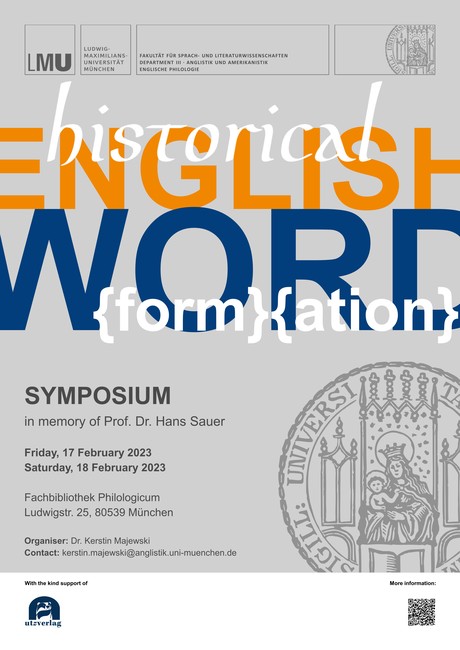 17-18 February 2023
Fachbibliothek Philologicum: Ludwigstraße 25, 80539 München
Organisers: Kerstin Majewski and Hans Sauer*
Contact: kerstin.majewski@anglistik.uni-muenchen.de
*Please note that despite the sudden and unexpected passing of Prof. Dr. Hans Sauer on 31 May, 2022, the symposium will take place.

General information
The symposium will take place at the Fachbibliothek Philologicum, Ludwigstr. 25, 80539 München.
Registration & fees
The registration period is from 4 November 2022 to 13 January 2023 (see below under "Registration"). After successful registration, you will receive a confirmation email.
The payment of the conference fee is possible only between 14 January and 4 February 2023. Detailed payment information will be sent to registered participants after 13 January 2023. Without previous payment, a participation in the symposium is unfortunately not possible.
The conference fee includes coffee, tea, and non-alcoholic beverages as well as snacks during the symposium.
Regular: EUR 50,-
University students: EUR 25,-
LMU students: free
Important dates
Deadline for abstract submissions (250 words): 31 July 2022
Notification of acceptance: 18 August 2022
Registration period: from 4 November 2022 until 13 January 2023
Payment of fee: from 14 January until 4 February 2023 (notification via email!)
Symposium: 17–18 February 2023
Any questions about the event may be directed to Kerstin Majewski: kerstin.majewski@anglistik.uni-muenchen.de