Aufgabengebiet
English Historical Linguistics; Old and Middle English language and literature
Old English runes and runology; Akademieprojekt RuneS (Akademie der Wissenschaften zu Göttingen)
Member of the Agder Academy of Sciences and Letters (Agder Vitenskapsakademi, Norway)
Special ERASMUS partnerships; EURO-SCHOLAR programme
Assistance in the B.A. and M.A. programmes
Assistance in the publications of the Chair (conference proceedings of ISAS and ICEHL)
Prüfungsberechtigt für Staatsexamen für Lehramt an öffentlichen Schulen (vertieft) sowie B.A. und M.A.
Weitere Informationen
Areas of Teaching
Historical Linguistics
Old English, Middle English, Early Modern English
Old and Middle English Literature
Runology
Pre-Old English and Old English Runes
Pre-Old Frisian and Frisian Runes
English and its Varieties
Research Projects
Akademieprojekt RuneS

(Runische Schriftlickeit in den germanischen Sprachen – Runic Writing in the Germanic Languages; funded 2010–2025)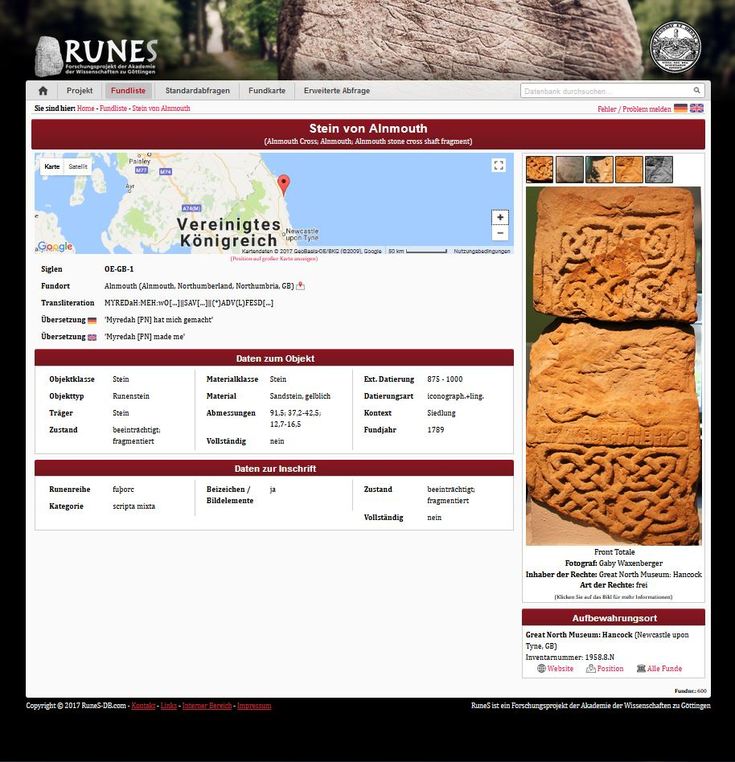 Screenshot of the database entry for the Alnmouth Stone
Old English Runes Project at the Catholic University of Eichstätt-Ingolstadt (funded 1995–2006)
Resume
Studied English and German at LMU Munich
Taught at Westfield College, University of London; Catholic University of Eichstätt-Ingolstadt (English Department, Department for Business Administration, German Language Teaching); and LMU Munich (English Department)
Courses Taught at LMU Munich
Introduction to Old English and Old English Runes
Introduction to Middle English
Understanding Language Change
Introduction to Early Modern English
Introduction to the History of the English Language
History of the English Language
Introduction to Phonetics and Phonology (American English)
Introduction to Linguistics
The English Lexicon: From the Beginnings to Today
More Old English
Early Texts in Anglo-Saxon England: Their Language and Culture
Runic Writing from Pre-Old English, Old English and Middle English: An Overview
Runic Inscriptions as a Mirror of Lingustic and Cultural Changes
Runic Writing (Pre-Old English to the Middle English Bridekirk Font)
Methodology of Runology and Deciphering Runic Inscriptions
Old English Prose Texts from ca. 700 – ca. 1000
The Love Poetry in MS Harley 2253
Poetry in Early Middle English: The Harley Lyrics
Selected Chapters of the Cambridge History of the English Language
The Phonological History of the English Language: From Pre-Old English to the Great Northern Cities Shift
The Standardized Orthography in English – A Long Way to Go from Old, Middle, Early Modern to Modern English
American English
The Diversity of American English
Kolloquium zur Sprachwissenschaft
Reading courses on Old and Middle English
Preparation courses for the Bavarian Staatsexamen (with focus on Historical Linguistics)
Excursions with seminar participants to the Herzog-Anton-Ulrich-Museum in Braunschweig